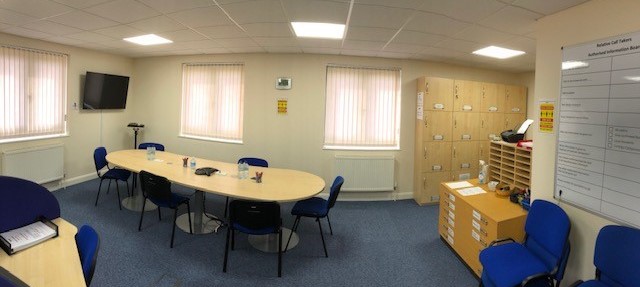 ---
Exercise development and delivery
Working closely with you, we will develop and facilitate any scale and type of exercise to meet your objectives and those of any regulatory bodies, playing a supporting role or developing entire exercises as required.
We fully document the exercise and produce an exercise report afterwards to highlight any recommendations and lessons identified.
With our extensive network and range of partnerships, we provide experienced role players, journalists and film crews to support the delivery of the exercise. We also host exercises in our own Incident Management Suite.
Consultancy
Across our network, we have a wealth of real-world experience to draw on to provide the right person to offer advice and guidance for a wide variety of incident related situations. You can be assured that our representatives will have had hands-on experience of the task being considered.
From emergency plan development, auditing and exercising to advice on Control of Major Accident Hazards (COMAH), Joint Emergency Services Interoperability Programme (JESIP), the Civil Contingencies Act (CCA) and media strategy, we have people who have the experience and qualifications to develop a company's capabilities.
Training Courses
We can tailor courses to a client's individual needs. Listed below is a sample of the courses we deliver
Incident Management Training
Our one-day course covers emergency management theory followed by a walk-through of an incident scenario to consolidate learning. This course is suitable for potential or current Incident Managers and those who will be required to take on a role in the organisation's Incident Management Team. The aim of the course is to provide delegates with the information and awareness of key skills required to staff and lead IMTs.
We also deliver bespoke courses for Site Main Controllers, Site Incident Controllers or Shift Teams.
Log Keeping Training
Maintaining an accurate live record of discussions, decisions and actions is a crucial part of an effective incident response and a log may be taken as evidence in subsequent investigations. Regular training gives staff the vital knowledge and confidence to take on this role during an incident. Our half-day course covers the theory and practical examples for up to eight delegates.
The course provides information on keeping both a personal log and a log on behalf of the Incident Manager or team. It provides an understanding of which information to record, and how, for a variety of roles across the IMT, with a practice session to consolidate the learning.
Crisis Media Management Training
We run two courses on handling media attention during an incident:
Media Training Course

This one-day course will thoroughly prepare company spokespeople for interaction with the media during an incident. The course looks at the aims, sources and techniques of the modern journalist, the range of sources of public information, particularly social media, and the expectations and requirements of the company itself.
As well as practice in developing statements and key messages, delegates' interview technique is refined during a varied series of broadcast media interactions, played out against a credible and developing incident scenario.
The course is delivered by a tutor, a professional cameraman and a professional broadcast journalist/presenter.
Media Awareness Course

This half-day course gives operational staff and management a thorough understanding of the requirements and techniques of the modern media, as well as the influence of social media, during an incident. It is ideal for members of incident teams and general staff who may encounter media presence during an incident but who are not official spokespeople.
Evacuee Support Training
The provision of welfare support to personnel evacuated from their workplace can be surprisingly demanding on a company or organisation. Our one-day course provides those who may be asked to undertake this task with a sound understanding of the scenarios they may be faced with and how to manage them.
Delegates will learn to consider who may need support, where they might be evacuated to and their immediate and ongoing welfare needs. They will understand how to establish and facilitate a reception centre for evacuated personnel and support relatives wishing to meet or visit them, including recommended documentation. They will also cover the health and safety considerations for those providing support for evacuees and identify some of the potential challenges of the task.
Family Liaison Training
This one-day workshop is suitable for those in HR or company management who may be tasked with talking to and supporting the family of injured or deceased people as the result of an incident.
The aim of the course is to equip delegates with understanding of the requirements and limitations of this task, the role of the police, Coroner's officer and Health and Safety Executive (HSE) investigators, the legal proceedings and information on how to approach the task of speaking to families in the most difficult circumstances.
The facilitators have considerable direct experience of the family liaison role for the Police or work within the Coroner's Office so have a wealth of good practice and practical examples to share.
Relative Call Handling Training
This one-day course examines the principles of taking calls from relatives during an incident, including the requirements of data protection and the dissemination of information.
It examines and provides practice in good telephone technique when dealing with distressed callers and the essential recording and use of information received.
The course provides company representatives with a good understanding of the complexities of this role and so best enables them to make the right choices in terms of how they plan to approach this vital task during an incident
Business Continuity Training
This one-day workshop looks at all aspects of Business Continuity Management and gives delegates a step-by-step guide to key business requirements and best practice, empowering them to develop suitable plans for their organisation.